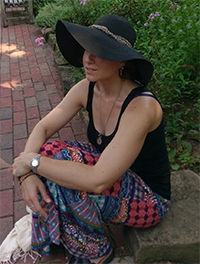 I was born into a family of mystics. Grandma studied world religions, the works of Freud and Jung and Joseph Campbell, divination, an endless variety of spiritual practices, extraterrestrials, reincarnation, and was a dream interpreter bar none. My mother is an astrologer (Primarily Western, but we do occasionally throw in Chinese and Mayan astrology to spice things up), numerologer, tarot reader, palm reader, intuitive, and spiritual artist. She and my grandmother were lovers of ancient history, and I so learned about the ancient British and Celts and Norse and Egyptians, their gods and their beliefs and their legends. I've been exposed to more divination tools than I can recall, from tarot and oracle cards of every permutation, Norse Runes, pendulums and crystals, to Ogham and tea leaves. Acupressure, reflexology, iridology, herbology, handwriting analysis, color therapy, aromatherapy, dowsing, scrying, aura analysis, astral projection/remote viewing, and candle magic were also sprinkled throughout my upbringing, and when I was a teenager, I had a stack of spell books half as tall as I was. Nature, too, was my teacher. I grew up in the mountains of Southern California, USA, surrounded by trees and birds, bears and raccoons and coyotes and wildcats. I learned to listen to the wind in the leaves and the tap of snowflakes on the windowpanes, and to Hear something deeper. When I began having visions of animals in my late twenties in which they would talk to me or otherwise communicate a message, no one was all that surprised – I'd always been a Nature nut. I also watched a black bear drag one of our "bear proof" trashcans down our driveway with its teeth, helped my neighbors lure a raccoon out of their house by laying down a trail of marshmallows, and slept in the bathtub with a pillow over my head for three nights straight when the pack of coyotes that frequented the wash behind our house decided to throw an epic full moon party. When I tell you guys that the Divine can be both hilarious and holy, it's because I've had plenty of chances to laugh with it!
From my family, I also gained a foundation in alternative healing methods. We rarely went to doctors, preferring home remedies or our local acupuncturist. Starting in my teens, my mother and I attended conferences with numerous authorities in the field of energy healing, and I first began a serious study in my early twenties, developing a thorough understanding of the chakras, a facility with kinesthetic muscle-testing, and experience releasing energy blockages in a client's system. What really grabbed my attention, however, was the mind-body connection—the way in which unique thoughts and emotions affected specific parts of the body. When the body malfunctioned, what was occurring emotionally to induce it to choose that particular manifestation of illness? And how could that information be used to heal oneself without any sort of external intervention at all? In other words, how could we become our own healers? Given the number of illnesses I continually experienced, I gained plenty of practice!
At the same time, I also began learning how to apply symbolic analysis to one's life as a whole. Many of our experiences are simply reflections of what we believe about ourselves and the world, and so what did a car accident represent? Or a betrayal, or a public humiliation? A seemingly random loss? How were these things part of a pattern of experiences repeating throughout one's life, and how, by changing ourselves, could we change the pattern? This remains a profound topic of interest for me and is, in fact, the foundation of the work that I do now.
"No mud, no lotus." - Thich Nhat Hanh
All the learning in the world is just words until put through the crucible of practice. I can now do what I do because I was forced to apply the concepts to transforming my own life, which was a mess! While my childhood and adolescence were definitely magical, they were not idyllic. I was an overweight, frizzy-haired, asthmatic child and regularly bullied, which evolved into a pervasive belief in my inherent unlikableness as a teen and young adult, when I developed chronic, severe acne and an eating disorder. My father went to Federal prison when I was thirteen, and we lost everything. My mother, sister, and I moved from house to house to house, sometimes with little warning. Though I had my family around me, I never felt grounded or secure. My parents' already strained marriage fell apart during my father's prison term, and while my mother worked valiantly to support us, it was relentlessly difficult, and money was always an issue. After a long and messy divorce, my mother married my stepfather, whom I adored. He would die suddenly only a handful of years later, and my grandmother not long after. I had by this point married my high school sweetheart, and we'd moved to Indiana, where we were severely in debt, and I was doing what I'd always done, playing it safe with a job that demanded little of me and consequently allowed me to stay small, as I believed was my place. I was comfortably uncomfortable with being the eternal victim; repeated experiences of abandonment and betrayal and general difficulty, feeling eternally taken advantage of, making very little money, and always being told that I could "do something bigger with myself" (because deep down, I believed that I should be doing something bigger!) were simply my lot in life. This didn't feel like such a bad thing at the time—I've always loved telling stories to make people laugh, and I wasn't yet aware that this could be done with positivity! And so my relentlessly dramatic relationships and experiences provided plenty of entertainment for others, which kept me feeling that all of the chaos was actually a good thing and made it completely okay to just keep creating more.
Despite having decided not to pursue a career in any sort of metaphysical work, I kept studying. I couldn't seem to help it – When something went sideways in someone's life, I loved trying to figure out why! In time, I was able to accurately determine what was occurring with someone emotionally just by looking at what had gone awry with them physically, or by what had gone wrong in their lives. I became better at guessing key facets of someone's astrological makeup after a few conversations with them. I continued to dabble in energy healing, occasionally doing energy work on friends and family members if they asked, or reading tarot cards or palms for friends or at charity events. As is typically the case with spiritual practitioners, at least at the start, I was considerably better at figuring out why things were a mess for other people than for myself – despite my continuing studies, I was still living a very small life devoid of risk and fulfillment and was thoroughly attached to my victim mentality. Still, over time, I began to successfully work with my own ailments. Headaches, chronic knee pain and weakness, allergies, colds, flu, acne, and a lifetime of sinus infections vanished as I began to analyze what I felt and make the decision to feel differently. My nearsightedness corrected to the point that I no longer needed my contacts. An eating disorder that had consumed my twenties gradually healed and vanished, and my body began to change – I was thinner and stronger than I had been in my entire life, and I even started looking younger! I slept well and had tons of energy. Because so many of my beliefs about my relative worthiness were linked to my physical appearance—a generational pattern propagated by both sides of my family—, the better I looked, the better I felt about myself, and for the first time in my life, I began to experience genuine confidence.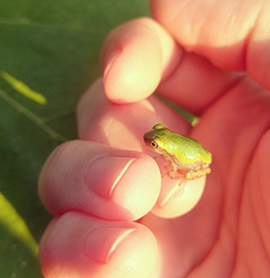 It was about this time that the animals begun showing up. I'd always been interested in animals and birds, and given a lifetime of metaphysical analysis, it didn't seem at all strange that I would begin to experience them as spiritual messengers. Some of the visions were remarkably visceral—I could feel a creature standing next to me, or hear it speaking to me—but most of the experiences were quieter; I would simply have an Awareness that a certain creature was There, and my job was to figure out what this meant. I was vaguely conscious that I was experiencing some kind of training, though I could not have put this into words at the time. The same was true for the physical experiences—when live bats, videos about bats, and bat-related paraphernalia began arriving in droves, Bat himself did not speak to me in words or impressions. It was my responsibility to determine what he was wanting me to understand.
I will never forget the chilling cold in the pit of my stomach when I went to one of my books on animal wisdom—the only resources I had at the time, as I'd not yet learned how to do my own analyses—and read that Bat indicated that a time of transformation through trauma was coming. I could sense that it was true, but I didn't understand how. Sure, I knew that my "safe" life was terribly unfulfilling, but it just didn't seem that important in the face of the fact that, for the first time ever, I felt pretty! I'd yearned to be beautiful my entire life, because I thought that meant love from others would be guaranteed, and that no one would ever abandon me! It wasn't so much a fear of being lonely that made this so critical as a lack of belief in myself; I honestly did not believe I had what it took to support myself, and abandonment literally meant I might find myself starving on the street. And now here I was, looking lovelier than I ever imagined, which must mean that I was assured love and safety! What could I possibly have to transform?
Just about everything, as it turned out. For one, despite the turmoil and pain of my youth, I lacked basic maturity. I had never actually been forced to develop faith in myself, nor genuine strength of will, a consequence of keeping my needs small and relying upon others to meet them. I also, though I would have told you otherwise at the time, did not truly understand what made people tick. I had an academic grasp of emotions and their links to behavior, but not an experiential one—I'd never experienced for myself the kind of pain, terror, rage, grief, sadness, hopelessness, and obsession that makes or breaks a human being. My understanding of what it meant to "listen to one's heart" or one's "Higher Self" was also thoroughly flawed. What I had thought were heart-decisions had actually been purely analytical ones based in what I thought a "spiritual" person should do. I'd only been skimming the surface of spiritual understanding and spiritual living, and the time had come for me to go deeper.
The trauma that Bat presaged is beyond the scope of this writing (though you can read a detailed account in my book Animal Totems and Spirit Guides: The Wisdom of Snake), but it tore me apart. In a mere handful of months, I went from being the healthiest and happiest I had ever been, to a wrecked shell of a human being. I put on thirty-five pounds in a matter of weeks despite no change in my diet or exercise routine, developed paralyzing social anxiety, and experienced non-stop panic attacks. Every Waking Moment of my life, I was terrified. At one point, I was convinced that I was possessed by a demon (an idea unfortunately encouraged by a decidedly neurotic psychic). I could no longer drive, could not sleep, and was constantly at the mercy of my body and mind, which had become hostile environments in every possible way. Because I could not seem to heal myself no matter what I did, I went to doctors, yogis, psychics, shamans, holistic chiropractors, acupuncturists, massage therapists, and priests. I chanted and changed my diet and did affirmations and yoga Every Single Day without fail for over a year. I had an exorcism performed at the urging of another healer who was also certain I was possessed. I meditated and prayed and smudged and hung up mirrors against the evil eye and begged for release. I tried singing bowls and Bach Flower Remedies, herbs, oils, drumming, screaming, dancing, and painting. I read book after book on healing. I contacted a curse-breaker I'd found Online (fortunately, the Divine yelled at me so loudly about this that I hung up before maxing out my credit card on what, had I been healthy, I would have known instantly was a con). I spent every penny we had, pawned all of my gold and silver jewelry save my wedding and engagement rings and took us even more deeply into debt, and all for nothing. Doctors pronounced me "just stressed" when test after test showed nothing physically awry. Shamans told me I was cursed, psychics told me I was the victim of psychic attack, one holistic chiropractor told me that my own body was attacking me (he was right, but he couldn't understand why or how to fix it), yogis told me I was simply "being stubborn", and one young man I knew who gave me the creeps—but who was so insistent upon his expertise that I listened anyway—told me that I was reaping the consequences of an evil past life. It is the measure of how far I had fallen that I believed him, and fell even deeper.
They were long, dark years. I tried once to escape via suicide, only to Hear—as though God Itself whispered in my ear at the last possible second,—"If you quit now, you're just going to have to do this again in your next lifetime. You chose this experience for a reason. You can make it. Hang in there." I did the math. If I had to live like this for the next sixty, seventy years (fewer, if I was lucky!), that felt far better than having to start from scratch! So I decided to live with it. Maybe I'd never feel safe again. Maybe the mental and physical anguish would never stop. But maybe I could find some way to find a grain of happiness here and there after all.
That decision was the beginning of healing, but it was neither easy nor linear, and it was not quick. The first three years were simply training in the experience of suffering and hopelessness, both to develop a bone-deep understanding of these Spaces, and to facilitate compassion. This is also where I learned patience, faith, and the depth of my will; as the saying goes, "You don't know how strong you are, until strong is all you can be!" This remains one of the truest things I know. The fourth year brought the beginnings of relief, as I was provided with experiences that showed me exactly why my body and mind were in shambles. I'd spent years studying the body-mind connection, and I'd learned how to heal the body by telling myself not to feel certain things. This had worked wonderfully when those feelings were relatively trivial; for example, it was easy to tell myself not to be angry with a boss who'd gotten snippy with me, because after all, she was having a bad week, and it wasn't really about me. But in the wake of the trauma I had experienced, the emotions were too big to simply "shut off", and trying to do so was what had destroyed me.
To truly heal, we have to feel. I had read that over and over again in my studies, and I'd never understood it. I'd never been a creature of feeling; in my family, we didn't feel our feelings, we examined them, and then decided whether or not to have them (at least, this was what I believed. Many years later, I came to understand what emotional creatures my family members actually were, and it was only the public veneer I had witnessed and accepted as fact).
I had no idea what I was doing at first. What did it mean to actually feel in ways that lead to healing? Over time, and with considerable trial and error, I figured it out, and with years of practice, I became quite good at it. Bat, Bear, Raven, Red-Tailed Hawk, Snake, and dozens of other Visitors arrived as I grew and pointed to areas of myself that required love, acceptance, and deeper exploration. They did not "fix" me, nor were they often very vocal, but with considerable study, I began to understand what their presence meant, and onto what areas of Self I needed to shine a lantern of Awareness and Acceptance and start feeling. The more I felt, the more relief I gained. The panic attacks that had ruled my every waking moment for three solid years abated within a few months and were completely gone within a year. The physical symptoms took considerably longer, but they, too, eventually surrendered. For the first time in my life, I began to actually hear my Heart, and a loving Silence took the place of the maddened tyrant that had been living in my brain. I began to move through my life on instinct, with greater and greater success, rather than fretting about every decision and winding up making the "safe" choice. I began to know happiness, and to enjoy the experience of being courageous and getting outside my comfort zone. Endless possibilities arose. I became financially successful for the first time in my life. I found pride and confidence in who I Was, and not how I looked.
In short, I fell in love with life. Even when things were stressful, or when "bad" things happened, I knew there was a purpose, and if I felt the related emotions instead of fighting them, I'd wind up where I was supposed to be. I was no longer a victim, but a Power in my own life, working in tandem with the Universe to fulfill my purpose in ways that brought me joy. It is such a different way of thinking and being when compared to the person I was before my physical, mental, emotional, and spiritual Unraveling, that if Old Me were to meet Present Me, Old Me would not recognize herself.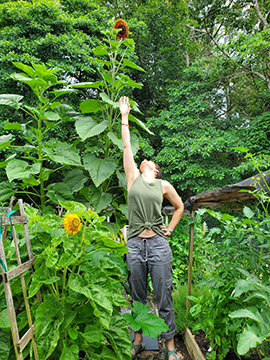 In the midst of my healing, I gained hundreds and hundreds of teachers – My clients from around the globe. Not long before I fell apart, I had found my way into a career in healing and spiritual counseling despite my best intentions, and I had just enough knowledge, experience, and determination to keep it going and growing, even in the midst of my Dark Night. In healing myself, I gained greater ability to help others heal themselves, and in working with them, gained greater insight into my own experience. I taught them, and they taught me. We grew and healed together in ever-greater ways.
My books, videos, and other media are the sum of everything I've studied, everything I've experienced, everything I've explored and healed within myself, and all of my work helping a world full of fellow-travelers understand and heal themselves, and connect with the Truth of Who They Are.
Thank you so very much for supporting me in doing what I love and what I am here to do, both in the generosity of your financial gifts, and with the warm encouragement and positive feedback I receive every day in your comments and reviews. Too, thank you for laughing with me! It is an honor and a joy to grow and explore with you, and to celebrate this strange and magical journey that we share.